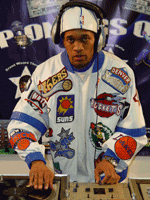 DJ Cool Clyde, the first deejay to put live scratch on wax (record) worldwide, was born and raised in the Bronx. Growing up from the mid 70's, Clyde was part of the Shaka Zuluâs, which were known as break dancers, and the 'Lil Gestapo Crew, better known today as the Universal Zulu Nation, which transcended from the Black Spades. Hip-hop was born from the Black Spade and we used hip-hop music to escape the violence of being in gangs. He came from the background of graffiti and break dancing, with various graffiti artists known as the Kings of the 6 line (train) such as Elkay TLP, Jap 115, Con, Slim, Karado 135, Crime2 NTA, Seam, Phade (the Shirt King), KC3 & KC5, Hallow Rock, Soda 727, Comet Blade TMB, Shy 147; Foe, Sin, Game & Royal of TNT, Seen UA, Sach 167, Teen, Kase, Lee, Zephyr and Dez (better known today as DJ Kay Slay of Hot 97). Clyde was known as SO1 & Sade 5 TGA. Clyde got his name from the Legendary James Brown's hit song, "Give It Up, Turn It Lose" (Sex Machine). Some of the break dancing artists were the B-Boy Rock Steady Crew, Clyde's brother John Boy/Peabody of the Zulu Kings, which was one of Afrika Bambaataa's number one b-boy breakers, Puppet Master, Beaver, Suni, Afrika Zambu, Skirpy and the first female breaker Zulu Queen Trina, just to name a few. Clyde also came from a family with musical and theatrical background in Jazz, including his cousin, Maria Davis of M.A.D. Production and HIV/Aids speaker, who was featured on Jay-Z's first album and also promotes various Hip Hop and R&B artists today. Clyde has acquired his degree in Audio Visual Technology.

Music is one of Clyde's greatest inspirations. He was inspired with Hip-Hop by Afrika Bambaataa and the late Disco King Mario in the mid 70âs. After leaving the group The Bambu Crew with M.C. Nolie Dee and the Nelson brothers, Romie Dee and Petey Pete, the biggest family in Bronxdale, DJ Keno and Sunny Troy Boy, Clyde developed his own group called the NastyCuzins, consisting of DJ Lightnin Lance, himself and various MCâs, such as, the Funk Machine MCâs who consisted of Slu Man, Ed Rockwell & Darryl Dee, Hypnotizing 3 who consisted of Dynamite Dee, Tuffy & Divine, featuring Clyde's little sister, ÎLil ShaRock and also the Super Sonic 4. The name Nasty Cuzins came about because both Clyde and Lance, who are cousins, were known for being nice with their hands on the turntables. The Nasty Cuzins were featured in the Billboard Magazine in September of 1987.

Being in the music business for 30+ years, Clyde began playing at home using his motherâs Gerard Turntable that used to hold '45 inch records in a stack. Clyde converted the spindle into a broken off pencil and began spinning back and scratching on it using Gemini, Clubman, 1-on-1, GLI and Nu Mark mixers. Clyde used to program beats at Jazzy Jay's Strong City Records using DX, DMX and the Rolland 808 drum machines. Clyde used to carry records inside of milk crates for Afrika Bambaataa, known as the Master of Records and purchased bboy records in the 70's from Downstairs Records, E.J. Korvettes, Discomat Records, Colony Records, and Harmony Records, just to name a few, as well as from the late Lenny Roberts, who sold beats and records from out of his home and eventually opened up a store called Street Beat Records in the Bronx.

By saving money from working summer youth jobs, Clyde purchased his first set of Technique 210 turntable and Gemini mixer. Clyde started playing at house parties at the Schuyler House in the Bronx where he lived. He then played in carriage rooms, known as the storage rooms in Bronxdale Projects holding about 15-20 people and charging fifty cents for admission. From there he played in community rooms in various projects, such as Bronxdale, Bronx River Center, Castle Hill, Monroe, Soundview and Coop City, just to name a few. His musical talent eventually evolved into the Bronx Parks, such as Rosedale Big Park (better know today as Watson & Gleason Park), 100 Park, and Soundview. In addition, he played in school gymnasiums, hotels, boat rides and various clubs such as the Ecstasy Garage, the T-Connection, Stardust Ballroom, Harlem World, The World, the Lions Dens, The South Oxford Club, The Circle Dinner Club, The Claremont Gym, Mitchell Gym and the Roxyâs. Between the end of 1980 and the beginning of 1981, DJ Lightnin Lance, the Hypnotizing 3, plus Lil ShaRock and Clyde released their first album, which was produced by Johnny Soul on an independent label Disco Wax Records called the "Live" Album Convention "81", which consisted of live scratching on the actual record. Disco Wax Records was located at 22 East 125th Street NYC 10035. It was the first scratching record to hit stores. The record also featured Grandmaster Flash and the Furious Five MCâs and DJ's Breakout and Baron and the Funky Four + 1 more and Kay Gee of the Cold Crush Brothers on side B of the album. The album was also featured in the 2000 YG issue of the Source Magazine featuring Jay-Z on the front cover.

Clyde performed with various past and current entertainers, such as the Soul Sonic Force featuring Afrika Bambaataa, Afrika Islam, the Cosmic Force MC's, the Jazzy Five MCâs featuring Jazzy Jay, who was the Co-Founder of Def Jam Records, the Fantastic Five featuring Grand Wizard Theodore, The Cold Crush Brothers, Force MDâs, KRS One, Kurtis Blow, Fat Joe, Loose Cannon (formerly of Bloodline Records), Just Ice, Ultra Magnetic, Space of Black Eye Records, Busy Bee, AJ and Mickey D and the True Crew, just to name a few. Clyde performed at the Rap Mania concert at the Apollo Theatre with artists such as Ice-T, EPMD, Whoduni, Jazzy Joyce, Salt & Pepper, Big Daddy Kane and Afrika Bambaataa which an article was featured in the Word Up Magazine in July 1990 issue. Clyde's musical group also performed at various talent shows, including winning third place at the Apollo Theater. Various deejays Clyde has worked with are Afrika Bambaataa, Kool Herc, GrandMaster Flash, Grand Wizard Theodore, Charlie Chase, Tony Tone, the late Disco King Mario, Afrika Islam, DJ Cisco and Bucko, Dr. Jeckyle (known today as Andre Harrell) of Dr. Jecklye and Mr. Hyde, as well as Kool DJ Red Alert, Lil' Theodore, DJ Reggie Wells of 98.7 Kiss FM, DJ Larry Love, Master of Ceremonies (Brand Nubian), Tex DJ Hollywood, Kool DJ D, The Mixologist Tyrone, Rocky, as well as Skeff Asim, DJ Hicks and Douglas from the Trio Houses, Jazzy Jay of Strong City Records, DJ Billy Boy and DJ 'Lil Dee (Lightnin Hands), and MC Tray Dee of the Sound Masters from Castle Hill. Clyde has worked with legendary Armstrong, promoter and owner of the Ecstasy Garage Disco, and Mean Gene, the brother of Grand Wizard Theodore (the L brothers). He worked with Buddy Esquire and Phase 2, known for making the original hip-hop flyers. Clyde also worked with Tape Master of the Cold Crush Brothers, who was known for taping all the hip-hop parties/events and Superman (Kevin), Afrika Bambaataa's sound guy, who was known for having the number one monster sound system, who still provides the sound system for the events today.

Eventually Clyde met with Dougie Fresh and Slick Rick of the Get Fresh Crew's former Manager Dennis Bell of City Slicker Productions and former Engineer, Ollie Cotton. Clyde worked with Dennis Bell in the late mid 80âs on a song called ãFly Yuppieä on an independent label called Doc Records, which consisted of live scratching/cutting. In the 90âs, Clyde had the opportunity to become a promoter. He promoted venues that featured groups like the Jeff Foxx Wake Up Club Band, Hal Melvin and the Blue Notes, Jeff Redd, the Delfonics, Horace Brown and Ray, Goodman and Brown. Clyde is currently the CEO/Founder and President of a non-profit organization called United We Stand Ent. (Entertainment), where he likes to bridge the gap between the youth and the adults in the community, using music and entertainment as an identifiable tool. He has promoted various events, such as the Rosedale Park event, which takes place every year in the Bronx.

Clyde has appeared in various magazines, news articles and news networks, such as, Xplosive Magazine, Word Up Magazine, DAStreetz Magazine, Billboard Magazine, the Daily News, The Post, TWU Local 100 Express, Amsterdam Newspaper, Bronx Times, Bronx Beat, BC News, the Meridian, as well as news segments on News12, NY1 News, UPN9 News and MTV. Some of the television and radio shows he appeared on are a host of shows on BronxNet Television such as: (In the Neighborhood Show with Mr. Batch, Bronx Talk AM and Prime Time with Gary Axelbank, Perspectives with Daren Jaime, and Glenis of Teens Talk 2 Glenis), WVOX 1460 AM with Bob Schaefer, 98.7 Kiss FM with the Open Line Crew and the Jeff Foxx Wake Up Club; 107.5 WBLS with Wendy Williams; Back-Spin 43 Sirius Radio with Kurtis Blow; 90.5 FM with Afrika Bambaataa; WBAI with BT Express; WGBB 1240 AM with Stan the Man STMS and Curry Kid of Straight Off the Top, just to name a few.

Clyde continues to do various venues throughout the community. Clyde, the CEO and Founders of United We Stand Ent., was awarded a Proclamation from the State of NY Legislative Resolution, NY State Senate 32nd ND District in 2002 presented by former Sen. Pedro Espada. Clyde was recently honored on January 13, 2005 at the Hip-Hop Church located in Harlem, where Kurtis Blow is the Co-Founder/Rapper and Dee Jay Worship Leader. An article was featured in the Sunday, January 30, 2005 Daily News, magazine section "25 Hour" pages 38 - 39. In addition, he was honored at the Trinity Episcopal Church in the Bronx on February 4, 2005.

Clyde recently teamed up with Kips Bay Boys and Girls Club in creating a class teaching the birth of Hip-Hop and deejaying techniques called DJ Cool Clyde and DJ Lightnin Lance Universal Hip-Hop Scratch Academy. Clyde can be heard on a compilation CD called Bronx Talk presents Bronx Music Vol. 1, which includes various genres of music, such as, Rock, Pop, Doo Wop, Salsa, Jazz and Hip Hop. The CD includes well-known legendary artists/groups such as, Willie Colon, Afrika Bambaataa, Dave Valentin, Professor X, Butch Barella, the legendary Morrisania Revue, and Time Zone, just to name a few. Mission:

Our mission is to use hip-hop music and deejaying techniques as an identifiable tool to both educate the youth on how the Hip-Hop Culture emerged and to be able to bring back the positive aspects of how Hip-Hop once was, separating it from today's gangster rap. Goal:

Our goal is to use the Hip-Hop Culture/deejaying class to get the youth to understand the birth of Hip-Hop and how it was used as a tool to escape the violence. By taking this class, the youth will benefit by learning and understanding about the positive attributes and outlook. They will obtain the essence of the birth of Hip-Hop and carry on what was once was. Our goal is to inform them that they not only can be deejays, they can also become Hip-Hop Lawyers, Hip-Hop Doctors, Hip-Hop Accountants, etc. Our youth are the one's that can change the negative attributes in the Hip-Hop Culture to a positive one.